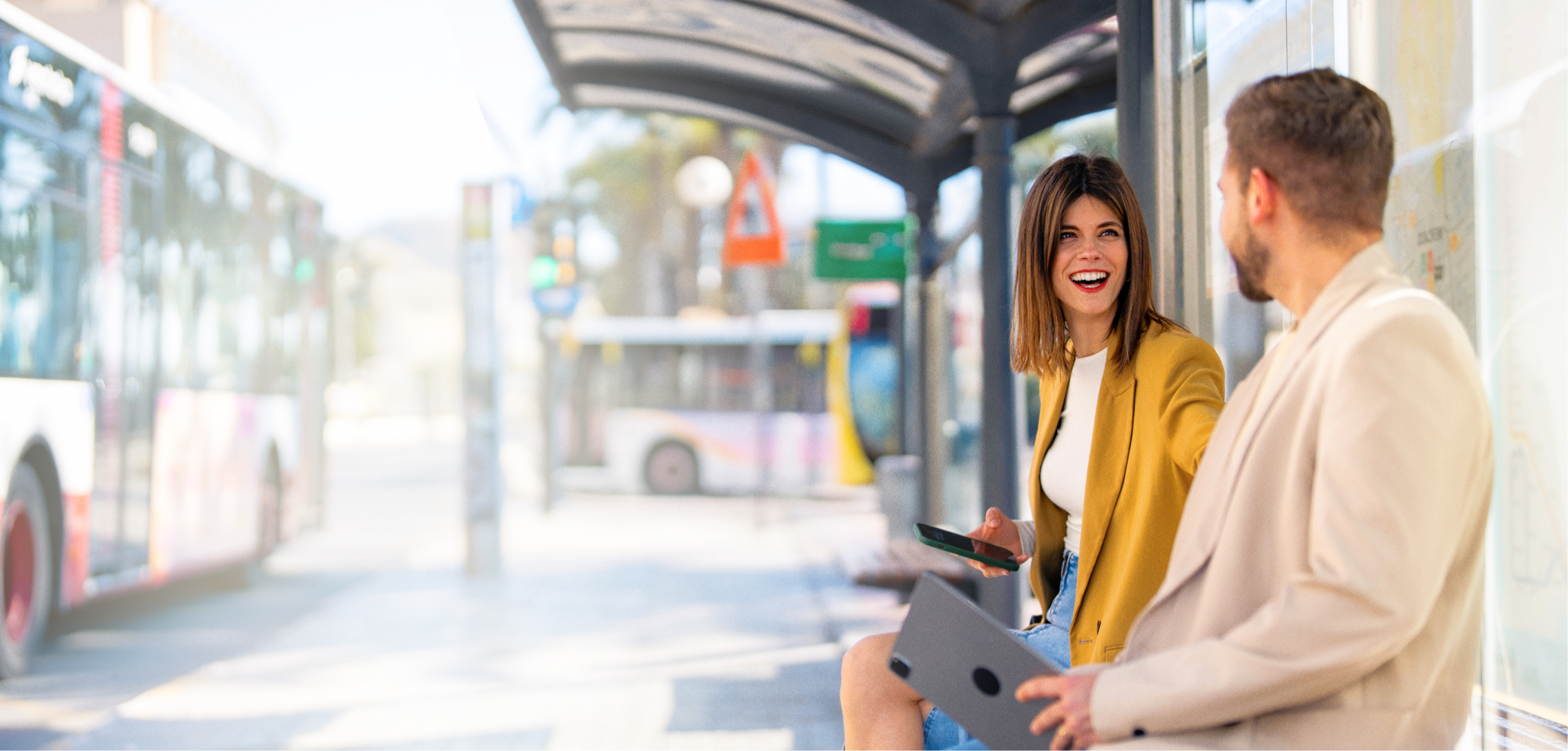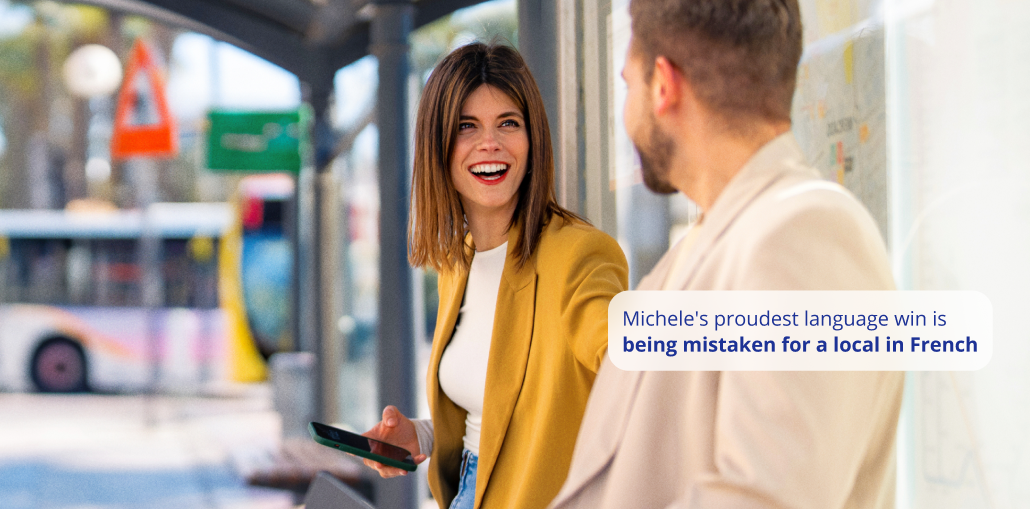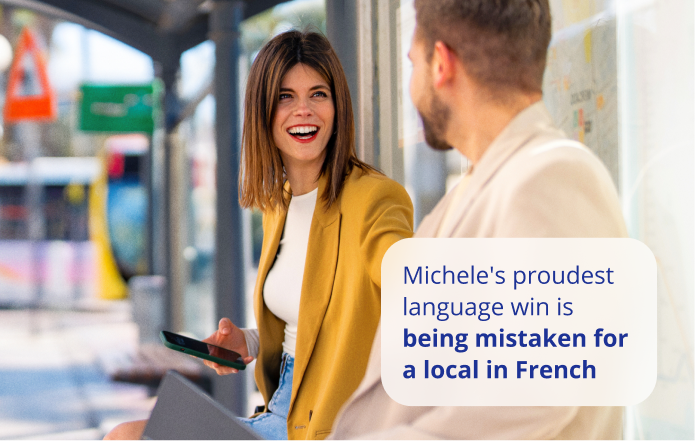 Learn to speak French with confidence
Learn to speak with confidence in our live, online classes available 24/7, with structured curriculums and professional teachers.
What is a language win?
It's that moment when you order something without fumbling over your words. Or when you make a phone call, and hallelujah, you're understood. Or when you crack a joke and all the native speakers laugh, especially that colleague who's always correcting your pronunciation. A language win is what makes all that hard work worthwhile and gives you the confidence to say, "yes, I can speak this language", no matter what level you're at.
Jumpstart your language journey and finish the year celebrating all your language wins.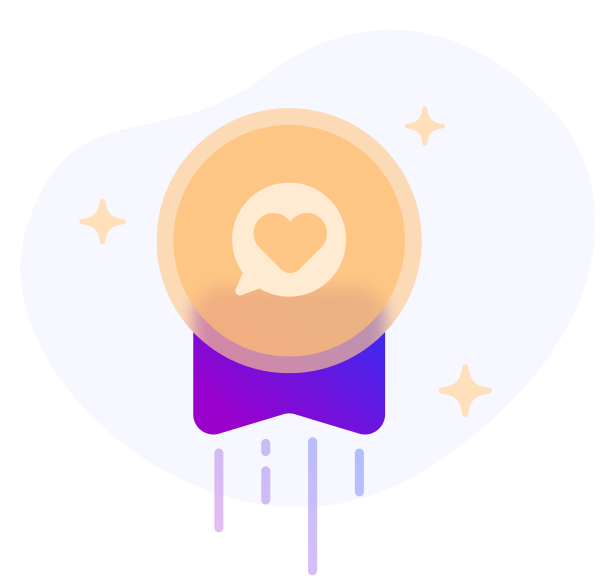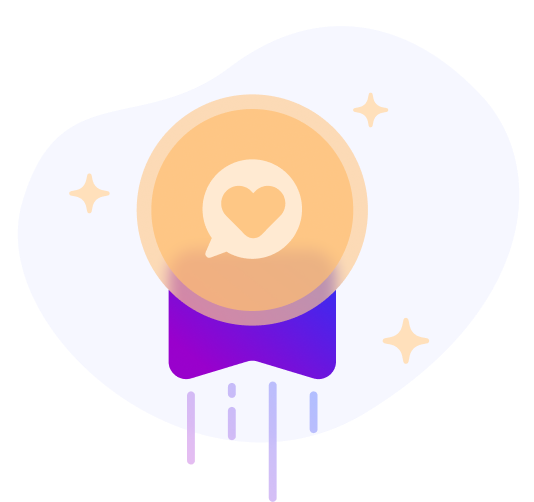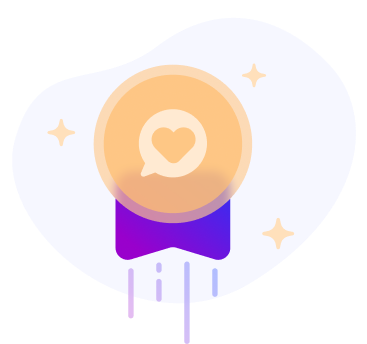 Learn French online with Lingoda
Comfortable speaking from day 1

Build your confidence and learn to express yourself easily through conversation, light debate and role-playing.

Teachers from all over the world

Through our rotation of international teachers, you'll be exposed to a wide variety of accents, expressions and cultures.

Learning beyond the lesson

Prepare before class or revise what you've just learned by quickly accessing the class materials, exercises and quizzes.
Speak French for everyday situations
Thanks to our section "Au Quotidien", you'll learn to speak like someone from France. Our classes will teach you common abbreviations, more familiar expressions and even some slang! So you can understand locals chatting on the Metro and be able to binge the latest French show on Netflix! Plus, we teach you about more than just the language. Embrace the French culture and discover the many French-speaking countries through our diverse pool of teachers.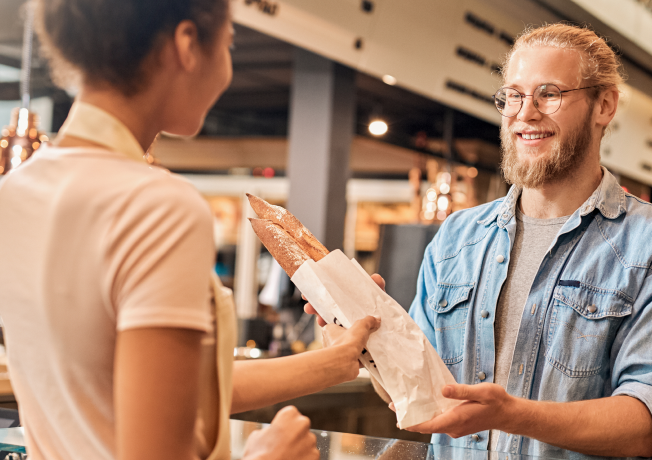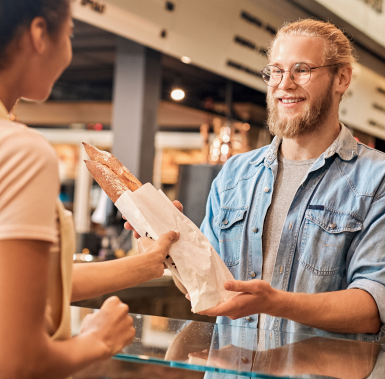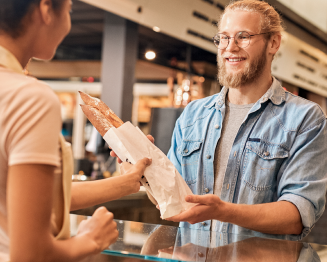 Sample some French lessons
Meet a few of our French teachers
Our experienced teachers will guide you, step by step, through our French courses and immerse you in the language from day 1.
Ghislaine

Where I am from:

La Trinité, France

Languages I teach:

French

Languages I speak:

French and English

Bekanty W

Where I am from:

Abidjan, Ivory Coast

Languages I teach:

French

Languages I speak:

French and English

Cecile

Where I am from:

Rennes, France

Languages I teach:

French

Languages I speak:

French, English, German and Italian

Anaïs

Where I am from:

Chartres, France

Languages I teach:

French

Languages I speak:

French, Spanish and English

Nadire

Where I am from:

Sainte-Geneviève-des Bois, France

Languages I teach:

French

Languages I speak:

French and English
Ready to start learning French online?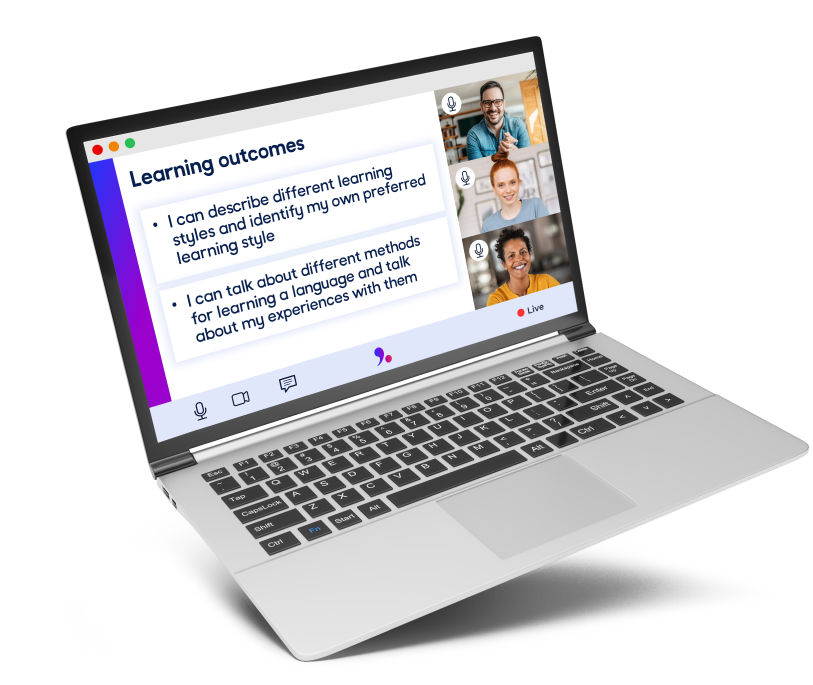 What learning with Lingoda looks like
Peek inside a class, discover how to book a lesson and what extra studying opportunities there are for you.
Learn more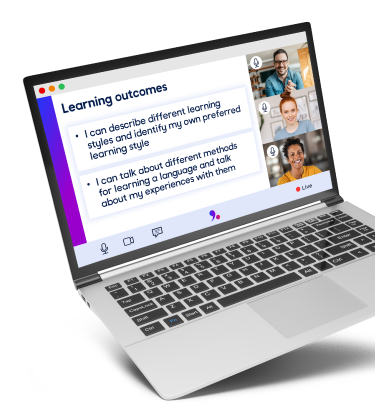 Recommended by other students
Frequently asked questions
Our promotion runs until 10 October 2023. With code LANGUAGEWIN, you can get 15%, 20% or 25% off your first month's payment for our 12, 20 and 40 classes/month plans respectively. The promotion is not valid on our lowest monthly plan, nor is it valid for current Lingoda students. If you sign up for our free trial, the discount will be automatically applied after the trial ends.

As a Lingoda student, you can download the class materials for free and use them at any time. After your class, you will also find a quiz to help you refresh and practice your new skills. There are also downloadable exercises available. All materials are uniquely created by Lingoda experts to align with CEFR standards. If you want to learn more about CEFR, read more here.

After scheduling a French class on our platform, you will be able to join the class with 2-4 fellow students from around the world. The teacher will introduce themselves and begin teaching the lesson using learning materials that you can download at the end of class. You will be able to interact with the teacher and other students, but there is no pressure to do so. Towards the end of class, the teacher will recap the lesson and ensure everybody has understood the lesson.

Both group and private classes are very effective with Lingoda, but it depends on your personal preferences what you'd like to do.

No, we are not a language learning app. We are an online language school. And like any school, we offer live classes with certified, native-speaking teachers. At Lingoda, we believe that nothing can replace live interaction and customised feedback from a real person.

Preparing to learn French online with us is simple. You need three things: a stable internet connection, a computer and the free video conferencing tool Zoom.

It depends. As is the case when learning any new skill, your progress depends on your efforts. If you would like to learn French online quickly, then we suggest that you make language learning a consistent habit. Also focus and participate in class and complete the downloadable materials at the end of each class for best results. It also depends on which of Lingoda's online French language courses you choose, as some of our plans are more intensive than others.

All of our French teachers are native speakers, no exceptions. They are also highly-qualified. We are strict with hiring only teachers that have years of experience and can provide the highest quality teaching. Our teachers are also trained with the Lingoda method and standard, so you can learn French online smoothly.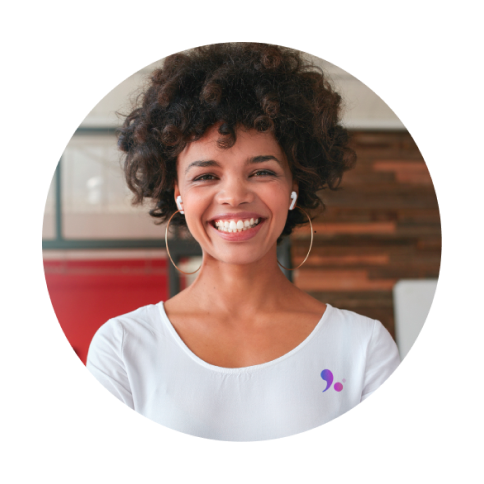 How to learn French
If you'd like to learn French, Lingoda is a good place to start. When learning any language, there are two main methods: working with a teacher in a group or individual class, or self-study, using books, online resources and apps. The more time you invest in learning French, the quicker you will learn the language. There are four main elements to language: listening, speaking, reading, and writing. In order to learn a language well, or to become fluent, it's a good idea to cover these four bases.
Working with a teacher provides a structure for language learning and a step-by-step process. This is particularly useful as a beginner learner, as your teacher will be able to guide you based on your language level and learning style.
For self-study, there is a wealth of knowledge online about how to learn French and what resources to use. There are also many language apps which help you to practice things like vocabulary and reading.
Is it easy for English speakers to learn French?
Everybody's different! There is no 'one size fits all' when it comes to learning French and it really depends on the time you invest. English is a Germanic language whereas French is a romance language, derived from Latin. This means that sometimes English speakers can find French tricky as the grammar, sentence structure and vocabulary is not as similar as French and Italian for example. However, this has not stopped millions of English speakers from learning French! It's all about studying consistently and getting as much speaking practice as you can.
Common french phrases
A great place to start when learning French is to focus on a few key phrases to help you in everyday life. Being able to introduce yourself and ask simple questions will get you pretty far when you are in France: you will be able to order food at a restaurant, ask for help at the tourist office, or even meet some locals. We recommend learning the following phrases:
Bonjour, ça va? (Hello, how are you?)
Je m'appelle…. (My name is…)
Peux-tu m'aider? (Can you help me?)
Is it useful to learn French?
Absolutely! There are many reasons to learn French. For one, it's one of the most-spoken languages in the world, so there will be plenty of people to practice with when you're learning. It's also known as the language of love, so it's a very beautiful language. In addition, if you know your 'why', it will help you stay motivated to learn French. Why do you want to learn French? It could be for work, or to help you communicate when traveling through the country. Whatever the reason, learning French is a wonderful way to expand your horizons and learn a new skill.
How long does it take to learn French?
This is a tricky question to answer. The 'standard' answer is around 23-24 weeks of full-time study, however that's very general and does not take into account an individual's skills, capabilities, experience and free time. For example, if you speak another romance language like Italian, you will probably pick up French a bit quicker as the grammar structures are similar. Likewise, if you have four or five hours a week to dedicate to studying French, you will probably learn quicker than someone who only has one hour per week. The most important thing however is to make learning French a habit.
How do I improve my French speaking skills?
Speak! It's as simple as that. If you want to improve your speaking skills, you have to speak French whenever you can, wherever you can! Lingoda offers many levels of classes which cover a variety of topics – the focus is always on encouraging students to speak the language. Speaking, and hearing other people speak French, will always be beneficial to you and will help you improve your speaking skills in the long term. Language exchanges are also a good idea, so do some digging online or search your local area for French speakers looking to do a French-English language exchange.