Learn to speak Business English confidently in any situation
Business English courses online 24/7
Small group and private classes
Native-speaking, qualified teachers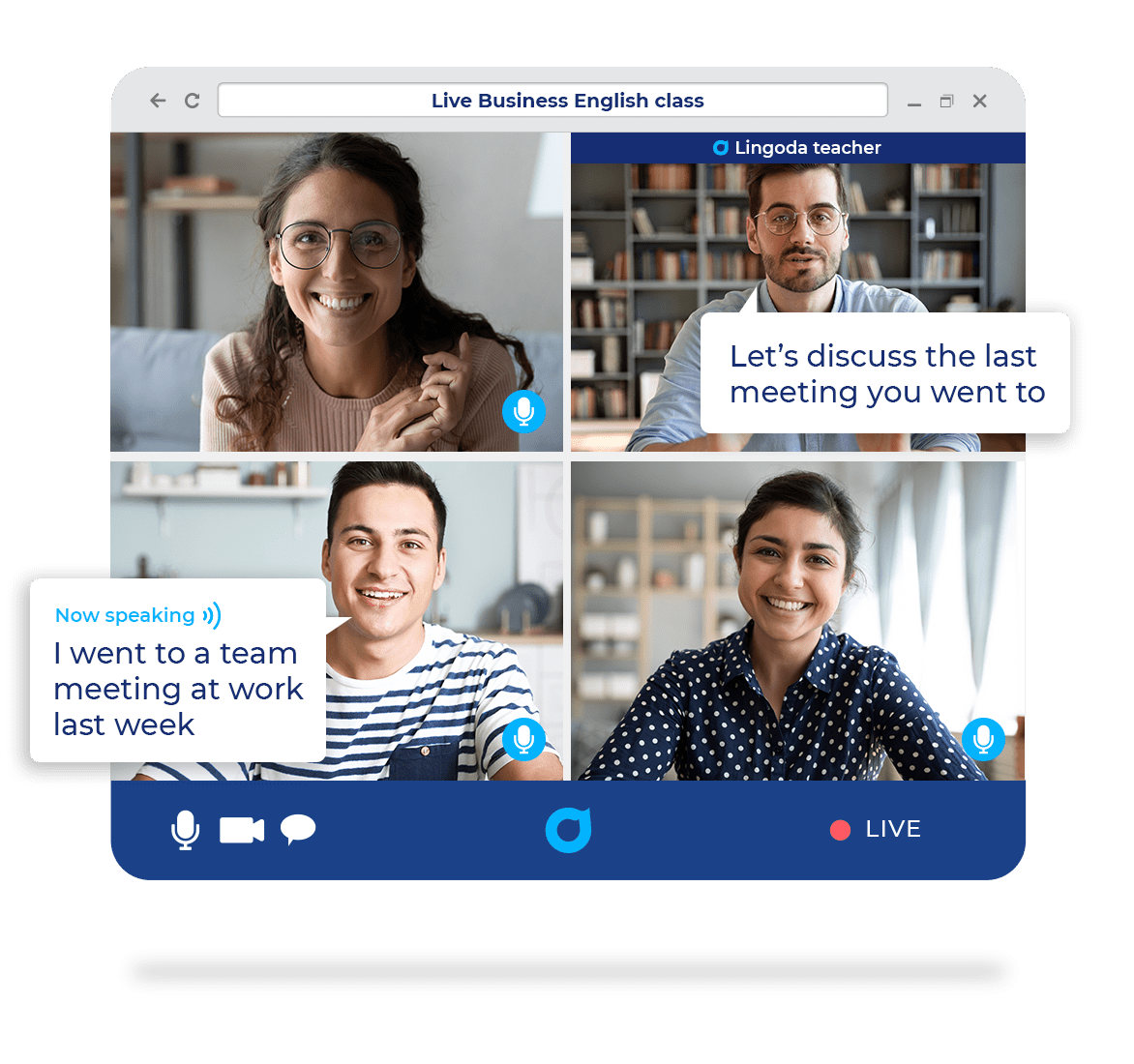 Choose the best online Business English classes for you
We offer comprehensive online language classes focusing on more than just grammar and vocabulary. Immerse yourself in real life topics such as 'Interacting with your boss and colleagues' or 'Life abroad' so you can learn to speak with confidence.
* From beginner to advanced:
General English: from A1 to C1 CEFR levelsBusiness English: From A1 to B2 CEFR levels
Choose your online Business English course
Each Business English course includes a free 7-day trial and is also available for English.Both English courses include learning materials designed by experts and quizzes after each lesson to review learning outcomes.
The Lingoda Tests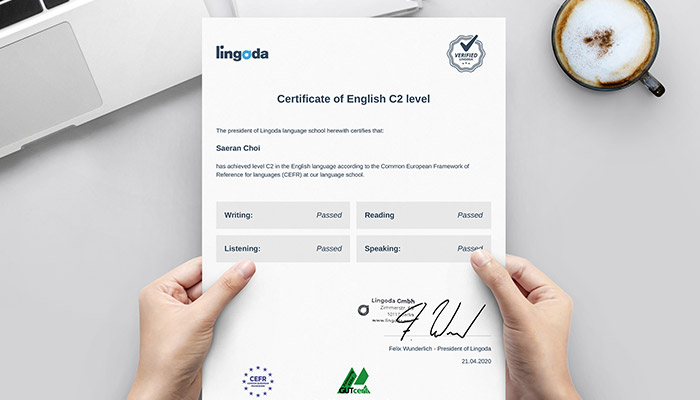 The Lingoda Placement Test
Our learning levels have 50 classes each and you will receive a certificate upon completion of each level. Show off your progress on your CV or LinkedIn profile with a Lingoda certificate.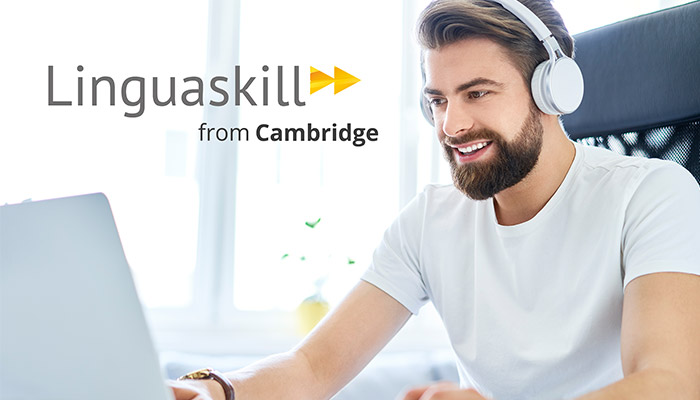 The Linguaskill test from Cambridge
The official test assesses all English skills and indicates your CEFR level (A1-C1). It can be used to prove your English level to employers and educational institutions worldwide. Take the test with ease and your results will be ready in just 3 working days.
Frequently asked questions
Business English is a type of English that is used in business situations. This can include in schools, international trading, commerce and banking. When you are confident with business vocabulary and phrases you will be able to communicate in a global work environment and improve your chances of an international promotion.
As a Lingoda student, you can download the class materials for free and use them at any time. After your class, you will also find a quiz to help you refresh and practice your new skills. There are also downloadable exercises available. All materials are uniquely created by Lingoda experts to align with CEFR standards. If you want to learn more about CEFR, read more here.
After scheduling a class on our platform, you will be able to join the class with 2-4 fellow students from around the world. The teacher will introduce themselves and begin teaching the lesson using learning materials that you can download at the end of class. You will be able to interact with the teacher and other students, but there is no pressure to do so. Towards the end of class, the teacher will recap the lesson and ensure everybody has understood the lesson. Both group and private classes are very effective with Lingoda, but it depends on your personal preferences what you'd like to do.
No, we are not a language learning app. We are an online language school and the best language learning website. And like any school, we offer live classes with certified, native speaking teachers. We believe that nothing can replace live interaction and customized feedback from a real person. Learn languages online with Lingoda.
Preparing to learn English online with us is simple. You need three things: a stable internet connection, a computer and the free video conferencing tool Zoom.
It depends. As is the case when learning any new skill, your progress depends on your efforts. If you would like to learn Business English online quickly, then we suggest that you make language learning a consistent habit. Also focus and participate in class and complete the downloadable materials at the end of each class for best results. It also depends on which of Lingoda's online Business English language courses you choose, as some of our plans are more intensive than others.
Yes. With our Business English course, you will learn all important aspects of the language including grammar, sentence structure and pronunciation. The only difference is that the vocabulary and topics in our Business courses are specifically designed to help you succeed in your career.
Yes, it will. If you use English in any aspect of your work, you will be able to speak it more confidently by the end of your course. You will be able to improve your networking, presentation, negotiation and interview skills as well as your writing skills. Learning English for work will also help you to learn how to write job application letters and resumes perfectly.
We're here to help
Get in touch with our student support team for any questions or needs you have.