Looking for an English for beginners course? Say hello to Lingoda!
Learning a new language doesn't have to be scary. With Lingoda's English for beginners course, you'll learn everything you need to have the perfect start to your English language journey.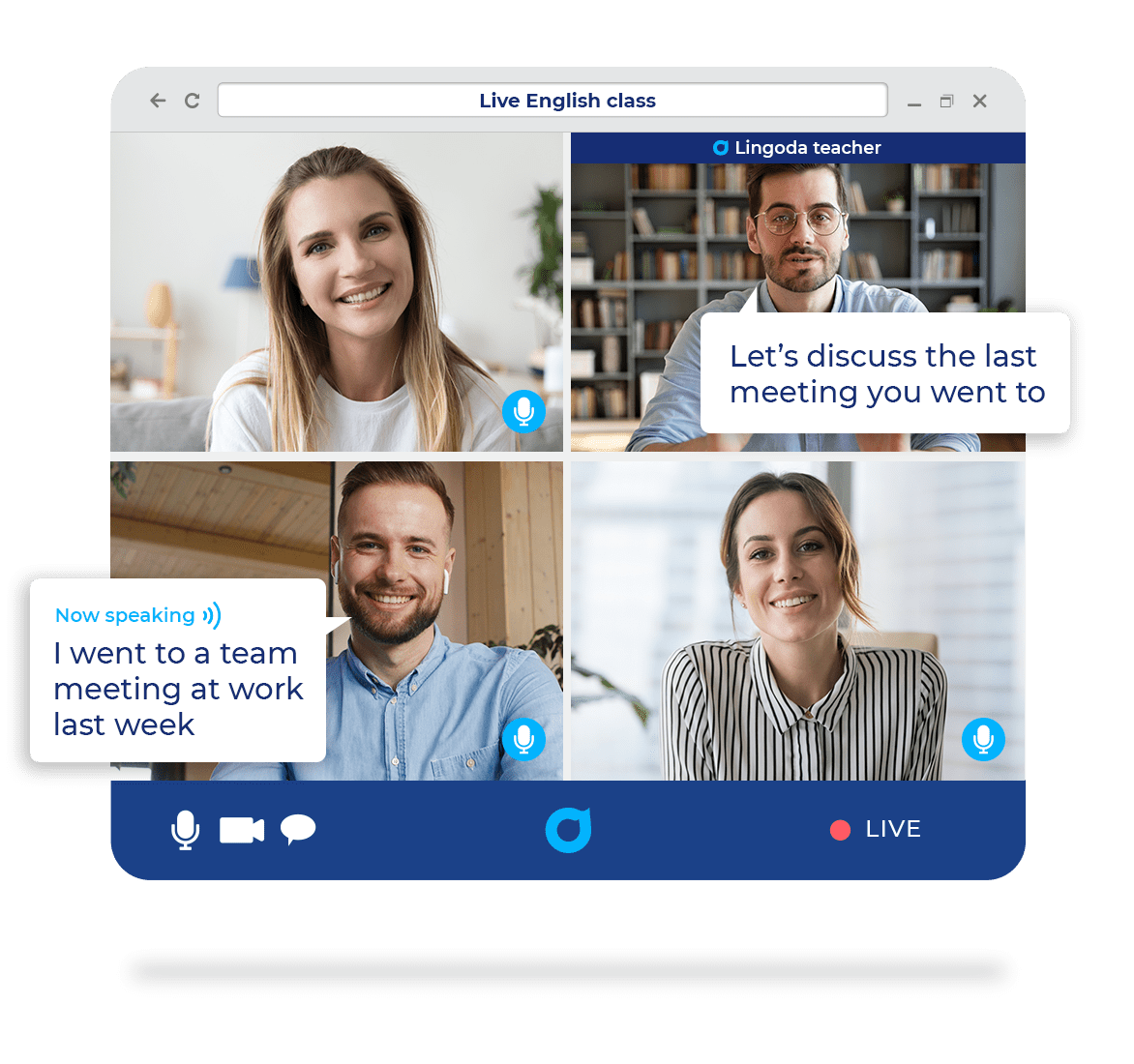 What is an English beginners level?
Learning a new language works better when it's structured. That's why we plan all of our courses in-line with the Common European Framework of Reference for Languages (CEFR).

As an English beginner you'll learn to introduce yourself, as well as ask and answer simple questions. You'll also perfect everyday expressions and by the end of A1 you'll be able to take part in a simple conversation with your teacher and classmates.

Every language learner starts as a beginner. With Lingoda, you'll have a solid foundation to progress to A2 and beyond!
Why is Lingoda the best choice for beginner English students?
With Lingoda's A1.1 English lessons for beginners, you'll start with the basics you need to hold a conversation. From your very first class you'll speak with the support of your teacher. From introductions, to simple grammar and working on your accent, you'll build your language skills with each new class.

After each lesson you can review the class notes, take quizzes and complete additional exercises. You'll also have access to thousands of Lingoda's excellent learning materials which are created in-line with the CEFR.
Back to basics: Learning English for beginners
Learning English for beginners doesn't need to be stressful. With Lingoda, you don't need to worry about travel time to class or forgetting anything. Everything you need is free to access from your student account 24/7.

All of our materials are prepared by linguistic experts and qualified teachers. So you can say goodbye to language bots and crazy vocabulary apps! You'll follow a specially prepared plan that will put you on the road to real fluency.
How we teach English to Beginners
With Lingoda you can learn at your own pace. We offer comprehensive online English classes for beginners focusing on more than just grammar and vocabulary! Choose topics that are relevant to you.

We teach in small 60-minute group classes. You can take a class in your lunch break or in-between meetings!

Your class and teacher will follow a learning plan based on your chosen topic and you will receive all the supporting materials you need to succeed.
Supportive learning at affordable price
How it works
Certified teachers
All of our teachers are qualified and native speakers. They'll guide you through your lessons and answer any questions you have.
Interactive lessons
Our 60-minute, interactive, live classes will get you to fluency. Each one hour class covers a topic and is CEFR level appropriate.
Real topics
Lingoda's lessons are prepared with you in mind. We build our courses around topics which you will need in your daily life.
We're trusted because we care.
We're #1 because we deliver.
Students love us because we provide a convenient and authentic experience that leads to fluency.
They have a flexible schedule like I have never seen in other language platforms. I am taking classes every day and I always choose the time that suits me best.
Language teachers from around the world have given me the ability to appreciate linguistical nuances and variations in different Spanish speaking countries.
They are really transparent and helpful for me to achieve my goal. They have live chat almost all the time and you can get your responses instantaneously.
Lingoda is a professional and authoritative platform to learn foreign languages. The tutors are good coaches and the materials are systematic and scientific.
Join Lingoda's language learning community
If you're looking to connect with other students on your English for beginners course, you can join our various online communities on Facebook, instagram and Twitter.
We have groups specifically for Sprint and Marathon learners where students discuss everything from English courses for beginners to vocabulary and teacher tips.