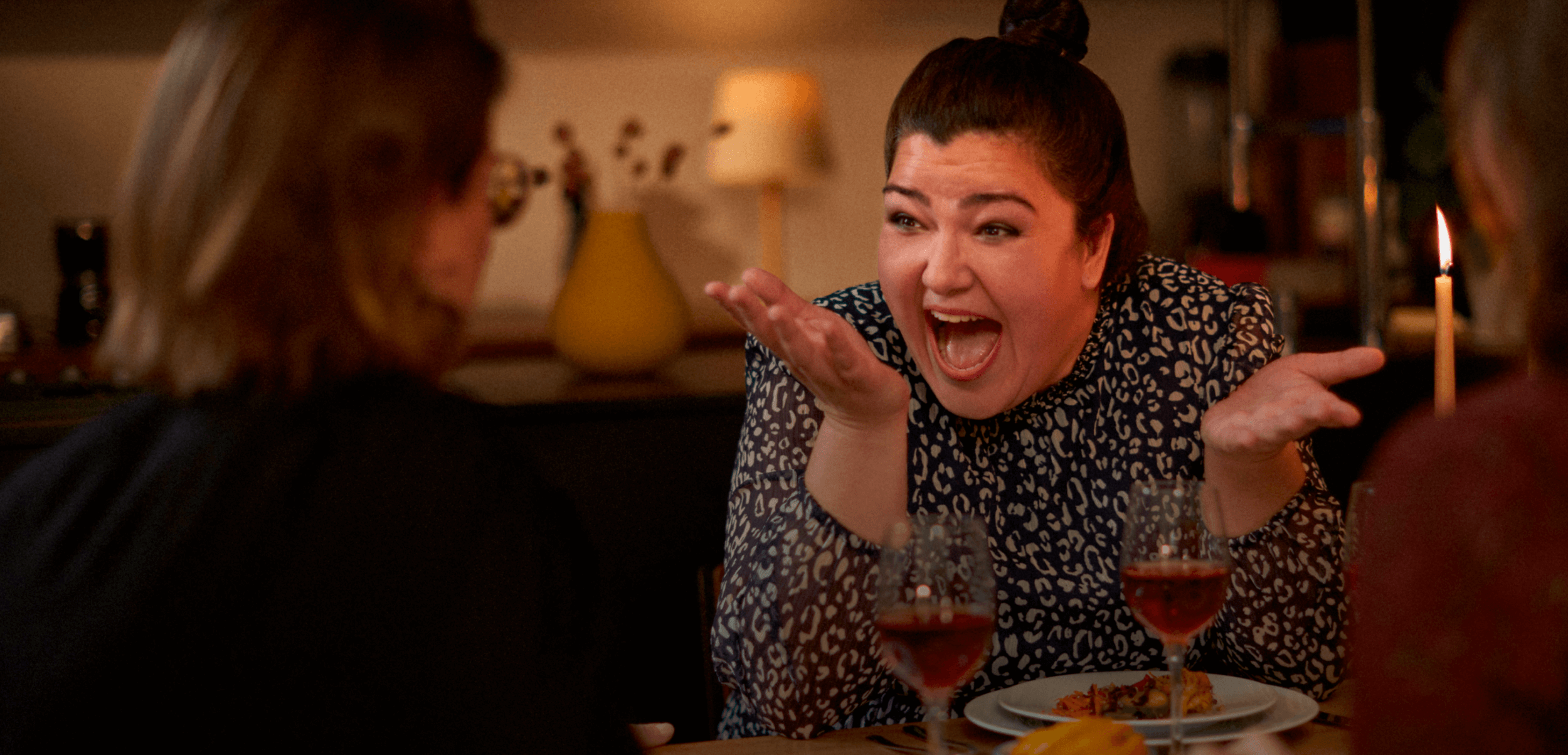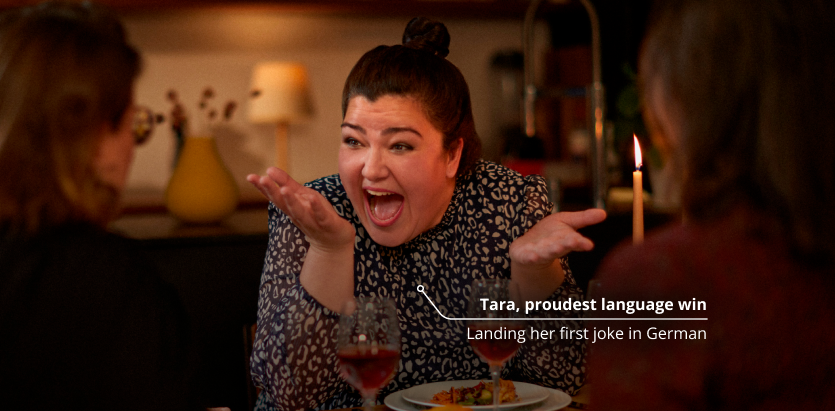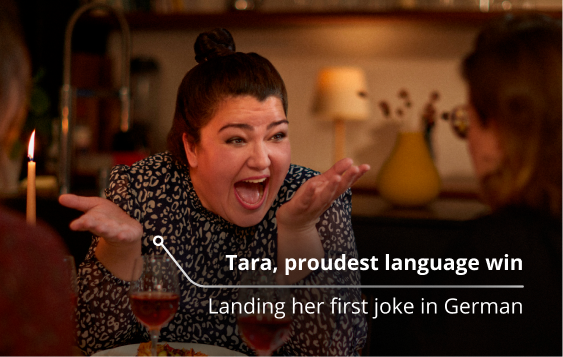 Learn to speak a language with confidence
Live classes online 24/7

Learn in small groups or 1-on-1

Free 7-day trial
Select a language to learn
What is Lingoda?
Live and online

Our online Zoom-classes are live, 60-minute long lessons with experienced teachers.

Group or private classes

Learn in small groups of up to 5 students or in 1-on-1 private classes for extra intensity.

Beginner to advanced

With classes available from A1 - C1, you can choose the level that works best for you.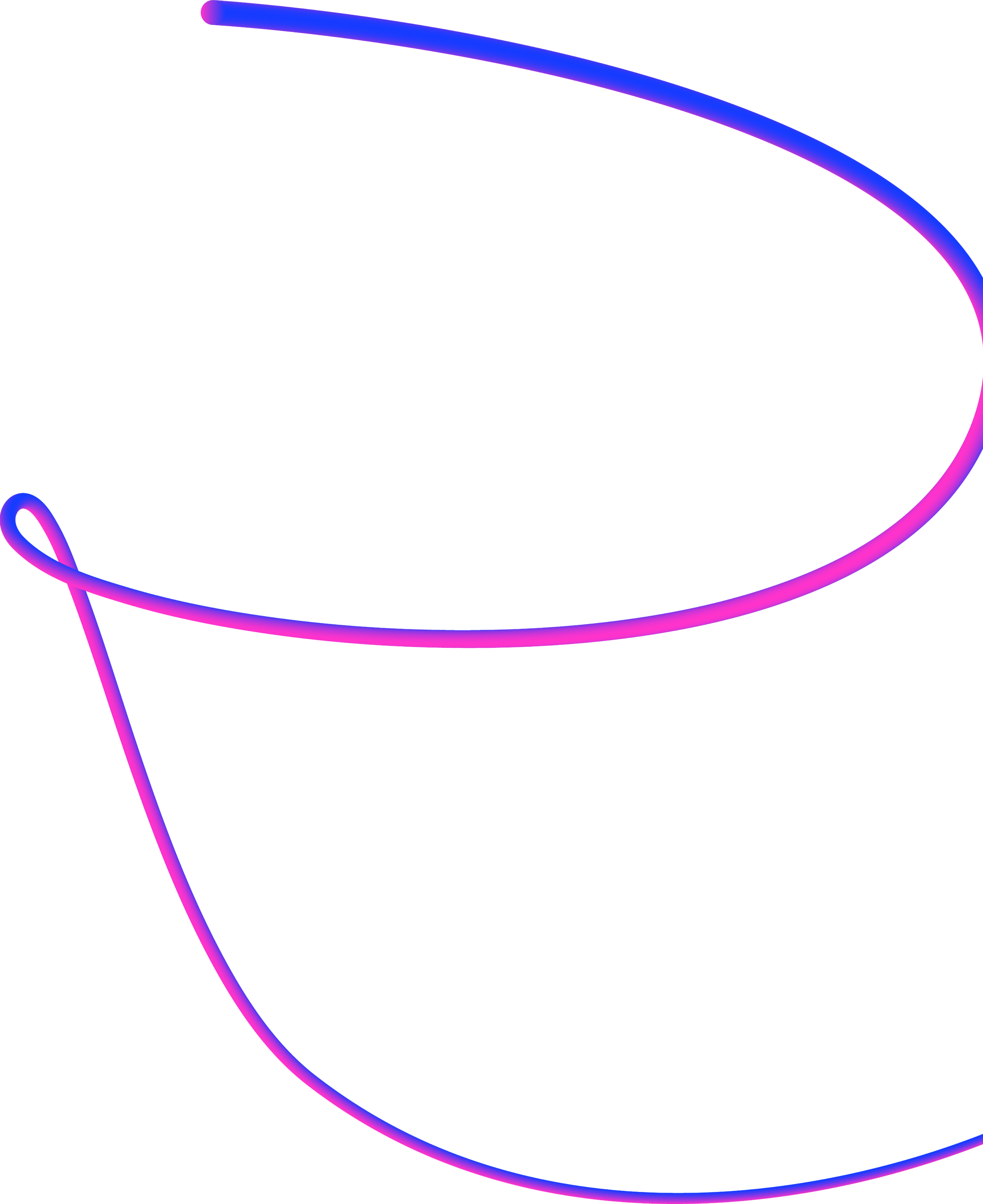 Why is Lingoda right for me?
Flexible for busy people

We offer 550k classes per year. That means over 60 classes start every hour around the clock.

Professional teachers

Our native-level teachers are located worldwide so you get to know cultural differences in a language.

Start speaking confidently

Teachers will mainly speak the learning-language in class, so you get comfy with the language fast.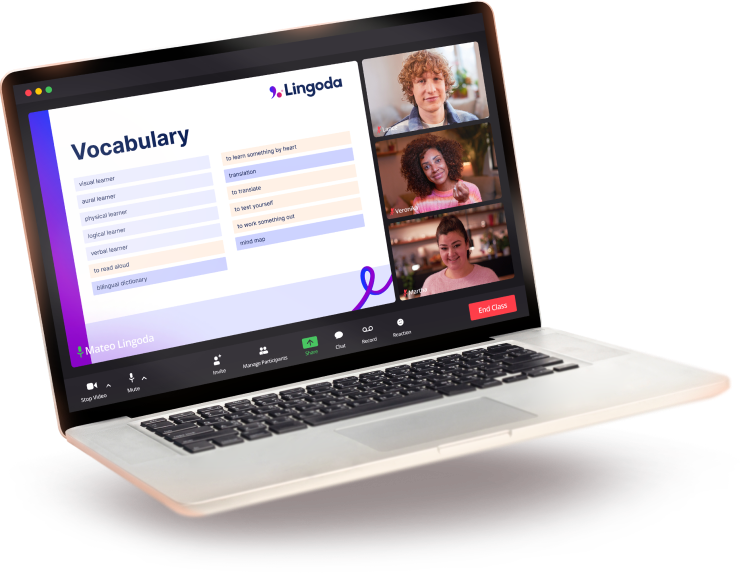 How does Lingoda work?
Find out what a class looks like, what your learning level is and how to book a lesson.
Learn more about Lingoda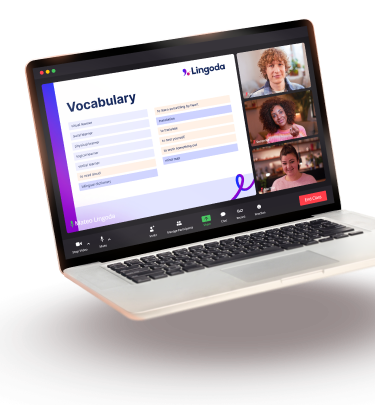 Try Lingoda for free
Choose either 3 group classes or one 1-on-1 private class to try free of charge!
Select a language to learn
Hear our students' favourite language wins
Anna

As a content creator, Anna always wanted to launch a video project in English. The day she did was a real language-winning moment.

English classes

Stella

Stella's favourite language win is the unique friendship she's created with a local Parisian shop owner who only speaks French.

French classes

Camille

Camille's goal was to connect with her German grandma in her native language. It was a special language win to hear about her childhood.

German classes

Gemma

For Gemma, being able to communicate with her Spanish-speaking doctor without the help of her boyfriend was a proud language win.

Spanish classes
Recommended by other students
Frequently asked questions
As a Lingoda student, you can download the class materials for free and use them at any time. After your class, you will also find a quiz to help you refresh and practice your new skills. For English and A1 German students, downloadable exercises are available as well. All materials are uniquely created by Lingoda experts to align with CEFR standards. If you want to learn more about CEFR, view here.

After scheduling a class on our platform, you will be able to join the class with 2-4 fellow students from around the world. The teacher will introduce themselves and begin teaching the lesson using learning materials that you can download at the end of class. During the class, we encourage you to interact not only with the materials and the teacher but also with the students. Towards the end of class, the teacher will recap the lesson and ensure everybody has understood the lesson.

No, we are not a language learning app. We are an online language school. And like any school, we offer live classes with certified, native-speaking teachers. At Lingoda, we believe that nothing can replace live interaction and customised feedback from a real person.

Preparing to learn with us is simple. You need three things: a stable internet connection, a computer and the free video conferencing tool Zoom.

It depends. As is the case when learning any new skill, your progress depends on your efforts. If you would like to learn quickly, then we suggest that you make language learning a consistent habit. Also focus and participate in class and complete the downloadable materials at the end of each class for best results. It also depends on which of Lingoda's online language courses you choose, as some of our plans are more intensive than others.