Get in touch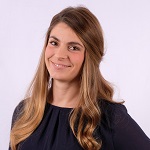 Benedetta Bellini, International PR Manager
+4915258744631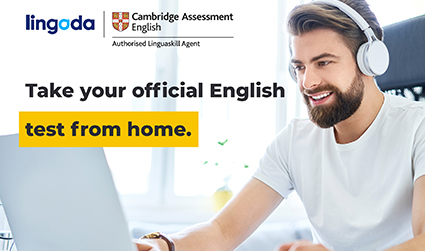 Lingoda and Cambridge Assessment English join forces to revolutionise language assessments
Students can now take the Linguaskill from Cambridge test online with Lingoda, with results available within three working days, accepted by numerous employers, educational institutions and governmental bodies worldwide.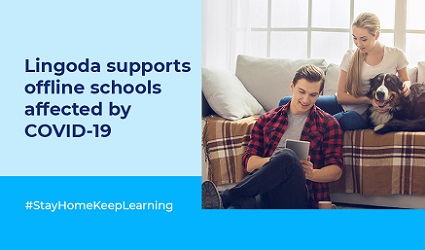 Lingoda supports offline schools worldwide during current crisis
Over 2000 fully digital CEFR based lessons from Lingoda's language learning curricula for all levels are now accessible for free.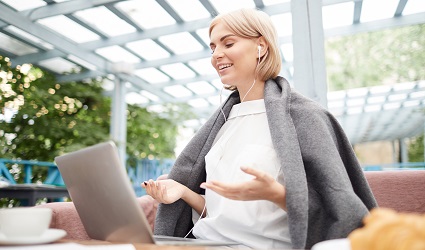 Online language school Lingoda bets big on Russia
Rapid growth and huge potential seen for the new Lingoda Russian website, as an increasing number of Russian-speakers seek to become bilingual.
Quick facts
1k+
Qualified, native speaking teachers
Executive team

Michael Shangkuan, CEO
"Mike is an EdTech entrepreneur, fitness fanatic, and polyglot, speaking six languages, namely English, German, Spanish, French, Chinese and Japanese. As a pioneer in language learning, he is the CEO of Lingoda GmbH, Europe's leading online language school, where he is in charge of the company's strategy and daily business. Previously, he held the position of CEO of Terra Education, a B-corp offering life-changing service learning summer programs to teens in Africa, South America, and Asia. Mike has lived in six countries across four continents. Less known, he is a former natural bodybuilder and competed at several international competitions. He is a graduate of Yale University and he holds an MBA from Harvard Business School."

Fabian Wunderlich, CFO / Co-Founder
"Fabian founded Lingoda together with his brother Felix. As its CFO, he is responsible for Business Analysis, Strategy, Finance, Accounting, Controlling, and Investor Relations. Born and raised in a family of teachers, Fabian has lived in the US, China, France, the UK, Brazil and, of course, his native Germany. Fabian led Lingoda as CEO in the first 5 years, when it was recognised as Top 10 Language Learning Companies Globally (Crunchbase) and Top 25 Startups in Germany (Linkedin)."

Felix Wunderlich, VP Sales & Partnerships / Co-Founder
"Felix founded Lingoda together with his brother Fabian. As VP Sales & Partnerships he currently oversees the company's expansion in the B2B and B2G (Business to Government) markets. Since the company's founding in 2013, Felix has managed almost all departments at Lingoda, and he also covers the role of Managing Director. His background is in the offline language school market where he has worked as a Department Head for one of the leading chains of offline language schools in Europe."

Charlotte Gaudin, Chief of Staff
"As Chief of Staff at Lingoda, Charlotte is responsible for the company's overall operations, execution, processes, strategy and staff, which includes over 1,000 qualified, native speaking teachers across the world, in addition to a team of almost 100 international employees based in Berlin. Proud to be the first woman among Lingoda's senior management, Charlotte has been with the company almost since its foundation in 2013, and has worked in almost all departments, except engineering. Bilingual French-German with a passion for heavy metal music, she spent her professional life between the two European capitals of Paris and Berlin. Charlotte also lived in the Netherlands, where she studied International Business and Management at NHL Stenden University"

Paul Cumiskey, VP Marketing
"As VP of Marketing, Paul is responsible for defining and leading all Lingoda's marketing efforts. He has been in the role since February 2018. Previous to that, he gained over fifteen years experience within London based multinational blue chip organisations including BBC Worldwide, Betfair and News Corp, winning several highly acclaimed marketing awards in the process. He is currently learning German with Lingoda, his most difficult challenge yet. "

Stefan Ludwig, VP of Engineering
"As VP of Engineering, Stefan is responsible for Lingoda's technological backbone. He leads and guides a remote team of engineers in their mission in building a superior platform for Lingoda's students and teachers to connect across the world. He has been with Lingoda since the company's founding in 2013, where he has thrived in his passion for experimenting with new technologies. Stefan studied Computer Science with Economics (Wirtschaftsinformatik) at the Technical University of Darmstadt."

Stephen Yang, VP Product
"Stephen is a Taiwanese American who moved to Berlin at the beginning of 2017. As the VP of Product at Lingoda, Stephen is responsible for driving the product strategy to help make our vision of empowering anybody to master a language a reality. Before joining Lingoda, he held positions in the EdTech industry at Skillshare and Mobility space, and at Omio and Circ. He is a graduate of Columbia University where he studied Environmental Engineering and was on the varsity swim team"
ABOUT LINGODA
Lingoda is Europe's leading online language platform. Founded in Berlin in 2013, we make learning languages easier, convenient and more accessible for thousands of students from all over the world. We offer online, live language courses in German, English, Business English, Spanish and French with qualified, native-speaking teachers. Our private and small group classes are available 24/7, providing maximum flexibility. The specially designed, CEFR-based structured curriculum and extracurricular activities ensure learners always meet their goals. Our aim is to empower even the busiest people to master a language and unlock their potential – anytime, anywhere.
MEDIA INQUIRIES
Benedetta Bellini
International PR Manager
benedetta.bellini@lingoda.com
press@lingoda.com
+49 (0)152 58744631