Learn to speak English confidently in any situation
English and Business English courses
Small group and private classes
Learn online anytime 24/7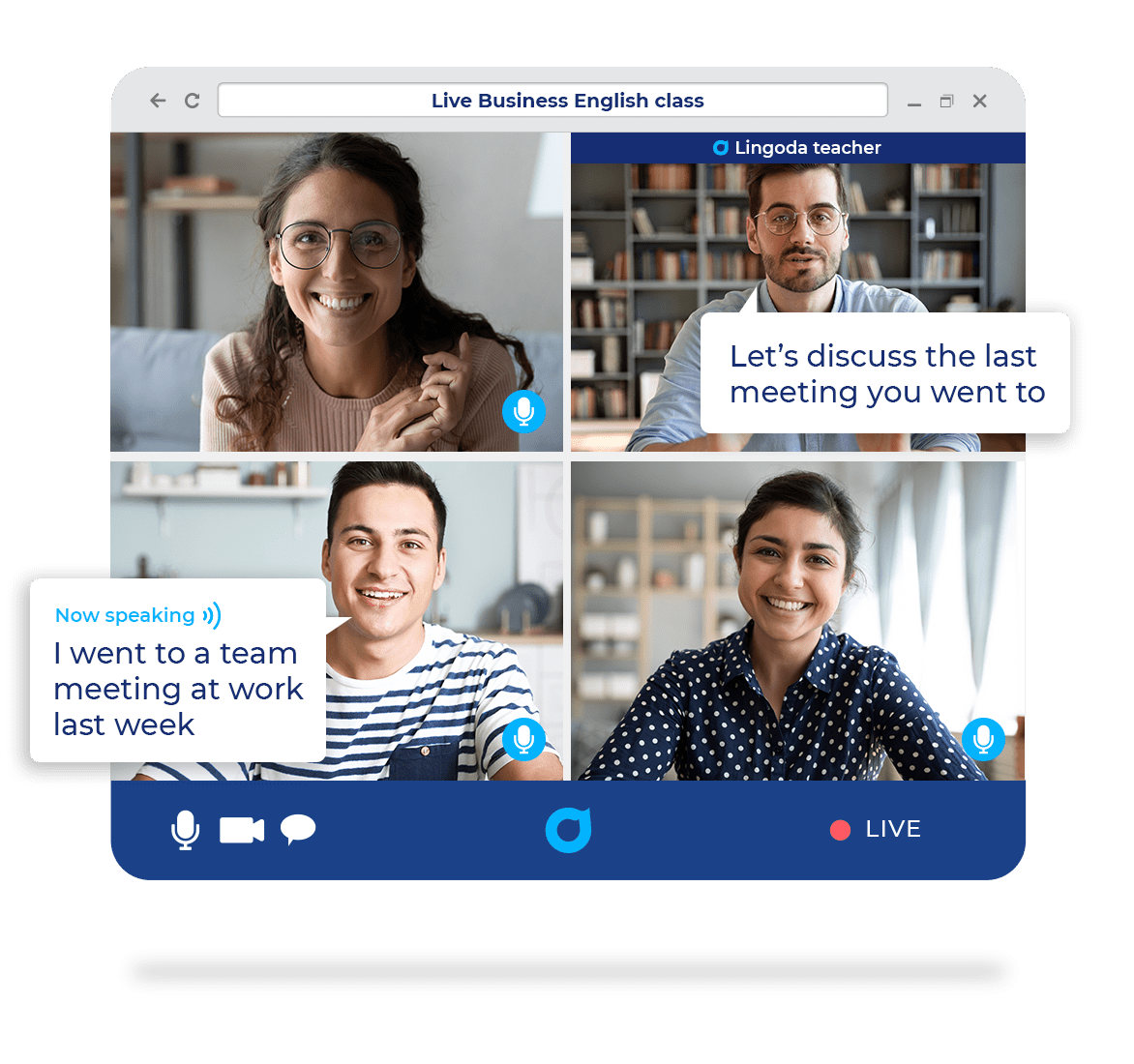 Choose the best English course for you
We offer comprehensive online language classes focusing on more than just grammar and vocabulary. Immerse yourself in real life topics such as 'Interacting with your boss and colleagues' or 'Life abroad' so you can learn to speak with confidence.
From beginner to advanced
General English: from A1 to C1 CEFR levels.
Business English: from A1 to B2 CEFR levels.
Choose your online English course
Each plan includes a free 7-day trial and is available for English and Business English.Both plans include material designed by experts and live classes with native-speaking teachers.
Frequently asked questions
Our General English courses are organized in modules of 50 lessons each and ensure your linear progress based on the CEFR levels. After you attend at least 90% of each module or level, you will receive a certificate of completion.

Our Business English courses are organized in modules of 60 lessons each. Each time you complete a module, you will be given a certificate of completion.

If you need proof of your CEFR level for General or Business English, we invite you to take our online Linguaskill from Cambridge test. Check our Cambridge partnership page for more information.
Yes. With our Business English course, you will learn all important aspects of the English language including grammar, sentence structure and pronunciation. The only difference is that the vocabulary and topics in our Business English courses are specifically designed to help you succeed in your career.
Yes, it will. If you use English in any aspect of your work, you will be able to speak it more confidently by the end of your course. You will be able to improve your networking, presentation, negotiation and interview skills as well as your writing skills so that you can write job application letters and resumes in perfect English.
Yes. You can ask your teacher any questions you might have. If you need help with a specific document or with preparing a presentation, we recommend that you book a private class.
If you attend 90% of your classes (40, 80 or 160 classes of the selected 3, 6 or 12 month plan), you will receive cashback. Within 45 days of the final date of your Marathon, you will receive a confirmation email with your results and then the cashback reward will be paid to your card within 3 months of the finish date.

Lingoda Marathon Challenge T&Cs
We're here to help
Get in touch with our student support team for any questions or needs you have.