What is the Language Sprint?
2-month learning challenge

Set yourself up to win with the Sprint: 15 classes/month or the Super Sprint: 30 classes/month.

Native-level teachers

Learn from professional language teachers in live Zoom-classes. Practise speaking and get individual feedback.

Get rewarded for your commitment

Finish the Language Sprint and follow all rules to earn 50% of your money back, or even more as class credits!
How the Language Sprint works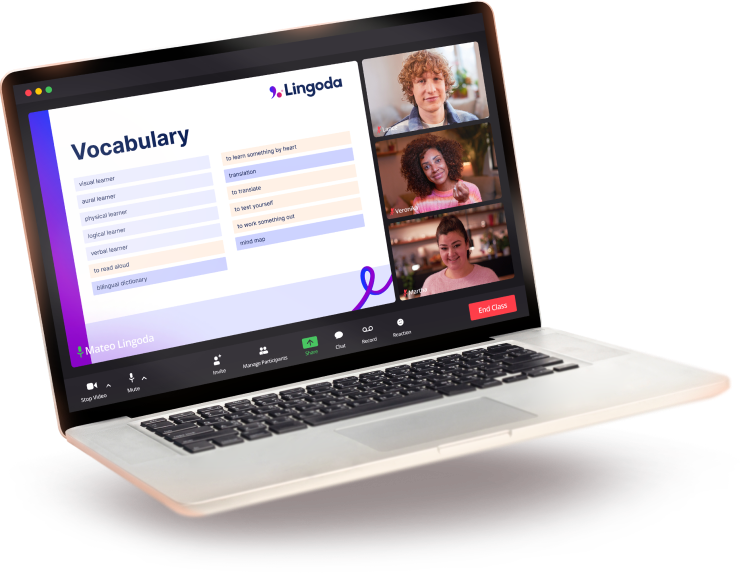 Why learning with Lingoda is so effective
Your 60-minute classes are online and live, with experienced teachers who will give you feedback. In those lessons you and 3-4 classmates will focus on speaking and real-life conversations as well as learning grammar structures. You can book your classes online following our structured curriculum or choose your classes by topic for full flexibility.
Learn more about Lingoda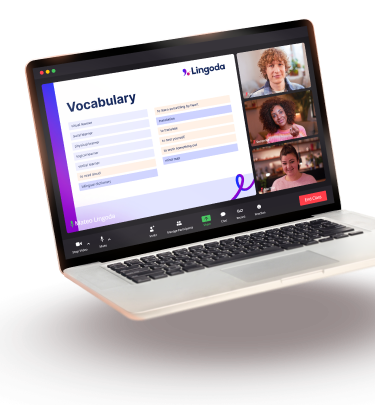 Learning languages
English

From A1 to C1

Business English

From A1 to B2
Hear from our Language Sprint winners
Souji

Before the Super Sprint, Souji could read German but couldn't really speak it. Now, she feels comfortable in conversations and can even watch Netflix in German.

Sonia

​​Sonia barely spoke any Spanish before the Super Sprint. Now, she can chat about what she did on the weekend, which is amazing to do in such a short space of time.

Megan

After 16 months of learning Spanish, it is so much easier for Megan to have a real conversation with the Spanish-speaking people in her community.
Frequently asked questions
The Language Sprint is only open to new Customers who have never had an active subscription with Lingoda. This does not include the Free Trial as it is not an active subscription. Upon registering for the Sprint Promotion, you automatically sign up for a two-month subscription. The payments will be automatically charged from your selected payment method upon registration and then on 19. December 2023 and 18. January 2024. To foster the skills learned during the Sprint Promotion, your course automatically rolls into a regular Lingoda subscription after the Sprint Promotion is over. If you would like a break after your Sprint, you can change your post-Sprint subscription during the last month of the Sprint Promotion.

You can download all Language Sprint rules here. Please familiarise yourself with them. You need to follow all the Language Sprint rules as well as Lingoda's T&Cs in order to earn your cashback.

You can learn English and German from A1 to C1, French, Spanish and Business English from A1 to B2.

Complete a placement test and find out your level.

Change your level at any time during the Language Sprint if you find it too easy or difficult or if you've completed a level. This will not affect your refund eligibility.

All classes must be taken in the respective months of the Language Sprint:

For regular Sprint: 15 classes in Month 1 and 15 classes in Month 2.
For Super Sprint: 30 classes in Month 1 and 30 classes in Month 2.

A Sprint Promotion month is defined as follows:

– Month 1 – from 27. December 2023 (00:00) to 25. January 2024. (23:59)
– Month 2 – from 26. January 2024 (00:00) to 24. February 2024. (23:59)

You can't take more classes than stated above during the Sprint runtime. You also can't take more than 1 class a day for Sprint and Super Sprint and not more than 5 classes per week for Sprint.

The Language Sprint is designed to be a challenge and push your boundaries! Depending on your motivation it might feel hard or not. But thousands of students who succeeded before will testify that the effort is worth it for the language skills – and 14.000 of them earned the cashback.

Teachers at Lingoda are experienced professionals who love to teach. They are qualified, native-level speakers from all over the world. They will teach you versatile language skills and cultural insights into different social and workplace situations.

You can download all course materials for free from your account. No additional materials or textbooks are required. Plus, Lingoda offers homework and a quiz after your lessons, so you can keep practising.

If it's due to confirmed technical issues on Lingoda's side, the class will still count towards your Language Sprint. Once we have confirmation that the fault lies with Lingoda, we will update your account and refund your class credit. Please note, you can only use the refunded credit after the challenge ends. Using it during the Language Sprint (e.g. 16 classes in Month 2 of the Sprint instead of 15 classes) will result in you no longer being eligible for a cashback.

If you missed the class due to problems on your side, you are no longer eligible for a refund.

You can, of course, continue taking your Language Sprint classes and developing your language skills!

After the Language Sprint ends, The Student Team will check if you're eligible for a refund. This first part can take up to 2 weeks. If you qualify, we will send you your cashback (50% of the total amount you paid for the Sprint or the Super Sprint) to the same payment method you used to pay for the Language Sprint. Please note you can also choose to receive class credits of a higher value instead of money and continue learning (40 classes for Sprint, 75 classes for Super Sprint). This second part, the refund itself, can take up to 4 weeks. So in total, the process can take approximately 40-45 days.

You can join the Language Sprint as long as you never had an active Lingoda subscription before. Existing students can participate in the Language Sprint, but are automatically excluded from the rewards (cashback or free credits). Alternatively, you can choose one of our more intense monthly packages (i.e. 20 or 40 classes per month).